♡ EAT BETTER NOT LESS ♡
Das Food-Event im HEART Restaurant & Bar: Nadia Damaso nahm uns mit allen Sinnen auf eine kulinarische Weltreise – Genuss & Erlebnis pur!
Die Schweizer Bestseller-Kochbuch-Autorin & Food-Künstlerin Nadia Damaso präsentierte am Donnerstag, den 01. Februar 2018, ihr neues Reisekochbuch: "EAT BETTER NOT LESS – Around the World". Hier gibt's alle Highlights des Abends:
 "People who love to eat are always the best people"
Erst 21 Jahre jung und schon ihr zweites Buch: Die Bestseller-Autorin Nadia Damaso beweist mit "EAT BETTER NOT LESS – Around the World" wie lecker und vielfältig gesundes Essen sein kann. In einer kulinarischen Reise um die Welt zeigt sie, während wir ihre Kreationen im HEART beim Flying Dinner selbst kosten, ihre persönlichen Erfahrungen aus ihrer Reise durch 12 Länder.
♡ Egal wo man ist, Essen verbindet und bringt Menschen zusammen. Umso mehr Spaß machte es, die kulinarischen Höhepunkte gemeinsam an einem Abend im HEART zu genießen! ♡
Infos zu Nadia Damasos Buch "EAT BETTER NOT LESS"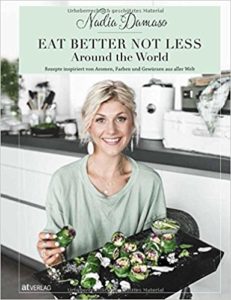 TITEL: EAT BETTER NOT LESS – Around the World: Rezepte inspiriert von Aromen, Farben und Gewürzen aus aller Welt
AUTOR: Nadia Damaso
ISBN-10: 3038009725
ISBN-13: 978-3038009726
DETAILS: Hardcover gebunden, 320 Seiten, 1. Auflage (28. September 2017)