HEARTLETTER OKTOBER 2019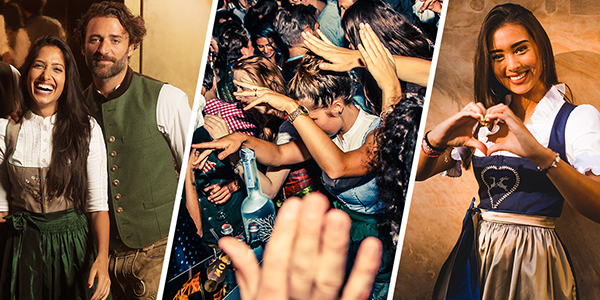 ♡ AFTER WIESN 2019
21. September – 06. Oktober – jeden Tag
Wiesn Endpurt! Nur noch knapp eine Woche!
Bei uns braut sich scho a guade Gaudi zam! Kommt auf ein Schnapserl vorbei mit unserem HEART Team!
Montag bis Samstag: ab 19 Uhr
Sonntags: ab 22 Uhr
---

Halloween: Fiesta de los Heartos – 31. Oktober 2019 / 22 Uhr
Fiesta de los Heartos
on Thursday, 31st 2019
from 9 PM till dawn!
Bei unserem Halloween Special "Fiesta de los Heartos" erwarten wir Euch alle bunt geschminkt, getreu unserem mexikanischen Motto.
Also kommt auf einen Tanz mit dem Tod vorbei, denn "It's the perfect day to dance with death."
Dress up & come over, that's all we ask!
Get on the guestlist here
Table Booking Dinner
---

Weihnachtsfeier: Formular Anfrage
Sichern Sie sich Ihren Wunschtermin in unserer Eventlocation im Herzen von München für Ihre Weihnachtsfeier!
Für Besichtigungstermine oder Fragen setzen Sie sich
gerne persönlich mit uns in Verbindung.
Weihnacht mit ♡ finden Sie in unserem HEART:
Für jeden Anlass und jede Personenanzahl von 10 bis 1000 Personen finden Sie bei uns die passenden Räumlichkeiten.
Sie haben die Wahl zwischen 9 individuell gestalteten Veranstaltungsräumen für private Anlässe oder Ihre Firmenveranstaltung:
---
Follow your ♡ on …
Bleib immer uptodate und folge uns auf Social Media!
Facebook Instagram Linkedin Xing
We love to have you here,
Your ♡
Möchtest auch Du in Zukunft Einladungen zu unseren Events erhalten? Dann melde Dich hier zu unserem Newsletter an.